09 Nov

2016 Election Thoughts: Thanksgiving and a Call to Prayer

I would like to say that I am truly grateful to the Lord that Hillary Clinton was defeated. This is a welcome end to an era. Hillary Clinton may have been the single most corrupt individual to have ever run for the American Presidency. The Clintons also have a long and sordid history of intimidating, harassing, and yes, seeking to destroy their political and personal enemies. I firmly believe Hillary's defeat was a victory for the American people.

With regard to Trump having won, I must acknowledge that over the past year, I have gone through a broad range of opinions and feelings. Having initially supported another candidate during the primaries, I was deeply, deeply disappointed when the GOP gave the nomination to Trump. I remain deeply disappointed with those so-called Christian leaders who supported him, and defended him from early on. When the Good Morning America audio files were released, my initial disappointment was confirmed. I was truly beyond appalled. Despite my disgust however, once Mr. Trump was nominated, I was aware that this was indeed a binary choice. It was either going to be Clinton or Trump. One of those two were going to become our next president. Though I was certainly tempted, for me, not voting was not an option.

I cautiously moved from being overwhelmed by my disgust to recognizing that indeed there were some very legitimate reasons for a very tempered, yet slightly hopeful outlook. Perhaps the most significant transition for me came two weeks ago when I had the honor to meet then Governor Mike Pence and his wife Karen among a small group of pastors and faith leaders.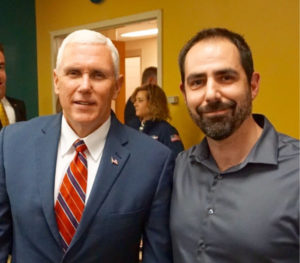 Vice President Pence shared his testimony of coming to faith in Jesus. This was very encouraging. He has openly and consistently described himself as a Christian first, then a conservative and a republican, in that order. He also answered some of our questions concerning Donald Trump's faith. Governor Pence described a man who not only genuinely desires the prayers of the church, but perhaps even more importantly, who has expressed and shown a very real desire to become man of prayer himself. Hearing all of this did inspire a hopefulness and optimism that I did not have previously.
Trump's victory was a truly historical event. There are some very real reasons, I believe, for ALL AMERICANS to be thankful to the Lord today. That said, this new administration doesn't need a fawning partisan church. President Trump, Vice President Pence, and the United States do not need a church that functions as a lap-dog, but as a house of prayer, as a truly intercessory body, and a genuinely prophetic voice. We are not deaf to the many grievous comments that were made along the way. We are not unaware of the many flaws with this candidate. Even as this ticket was won through the support of the church, so also must the church now hold this administration accountable to its responsibility to lead this nation in a righteous, wise, and just manner. We are under no illusion that the next four years represent any sort of utopia. Remember, governments consist of mere fallen men and woman. We put no faith in governments. We look only to Jesus to help us. He alone is our hope. So now is the time for us as followers of Jesus to arise and fulfill our mandate before the Lord in this absolutely critical hour.
Looking only to Jesus,
Blessings to all,
Joel