29 Oct

Please Pray for Rabbi Yehuda Glick

According to multiple breaking reports out of Jerusalem, Rabbi Yehuda Glick, the chairman of the Temple Mount Heritage Foundation was gravely wounded today in an assassination attempt on his life. Briefly, Glick is a student of the late Rabbi Menachem Fromen. He is a very sweet man with a passion to see Jews free to worship and pray on the Temple Mount. After corresponding over the past few years, we finally had the chance to spend some time together last year in Jerusalem. Glick is interviewed in my latest film concerning developments toward the building of the Jewish Temple. Right now, my heart is just breaking for Glick and his family. Reports are that he was shot point blank four times. On his behalf, I am asking that you please remember him in prayer tonight as news continues to come in concerning his condition.

Update: Reports are that Glick was shot in the chest, stomach, and hand. After surgery, he is in serious, but stable condition. More surgeries are scheduled. Doctors have said they expect a full recovery without any disabilities. I would absolutely put this in the category of miraculous. The Lord has more for this man. Do however continue to pray for his full recovery, as well as a powerful revelatory, transformational encounter with the Lord during this time.

On another note, after Israeli police surrounded the shooter's home, he opened fire on police and was killed. The Temple Mount has been closed. Abbas has called it a "declaration of war."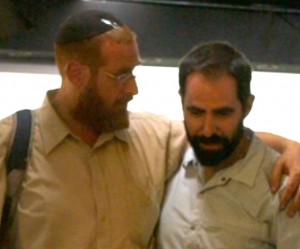 The following videos are from my interview with Glick in Jerusalem last year. Most of these clips are not featured in the film. While I do not agree, of course, with Glick concerning the idea that Muslims and Jews and Christians all worship the same God, in light of the abundance of demagoguery in the left-wing media casting Glick as a "right-wing extremist" etc., I thought some of these clips were important to share. Rabbi Glick is a courageous man of faith, but he is most certainly not an extremist. He is a man of peace. The extremists are not only those who sought to take Glick's life, but also the left wing media that have cast Glick as a radical right-wing agitator before they even took the time to know who he really is. Let us pray that he comes to know Yeshua the Messiah.
Rabbi Yehuda Glick Interview for End Times Eyewitness from Joel Richardson on Vimeo.
Rabbi Yehuda Glick Interview Clip Three from Joel Richardson on Vimeo.
Rabbi Yehuda Glick Interview Clip 4 from Joel Richardson on Vimeo.